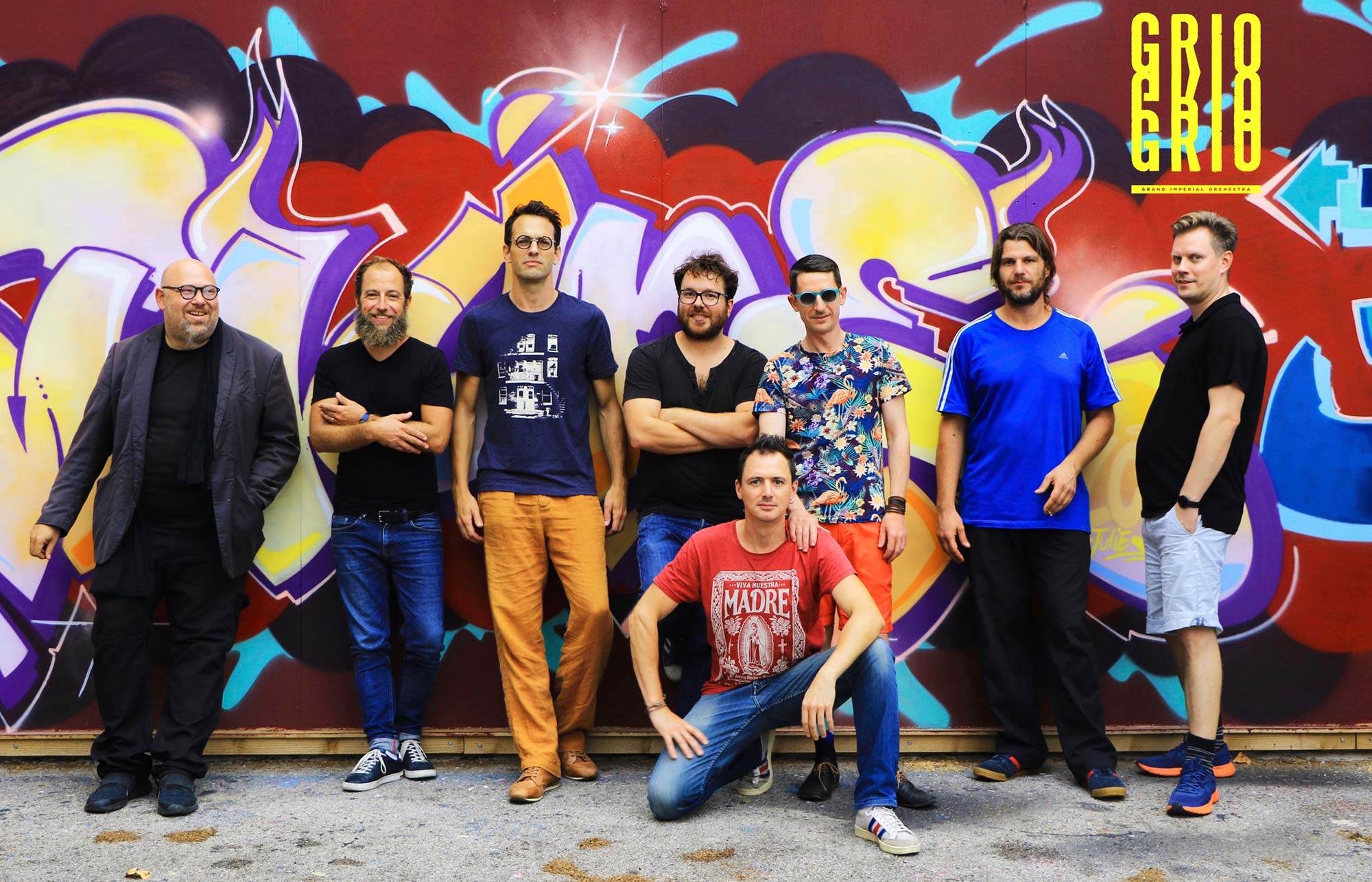 "L'esprit du jazz en parcourt toutes les phrases avec une ferveur bouillonnante, quasiment juvénile, qui fait jouir les oreilles."
– Guy Darol, Jazz Magazine
The name of the French ensemble Grio might give the impression that it is missing a letter at the end; that it refers to the West African poets, storytellers and musicians known as the griots. That is by no means the case, although Grio's music does have strong roots in the Afro-American jazz.
Grio is merely an acronym for Grand Impérial Orchestra, some of the eight musicians of which have toured in Finland as part of two smaller ensembles already years ago. One of them is the Impérial Quartet, the other one is the Impérial Orphéon, in which the last bass guitarist was substituted by an accordionist singing anything and everything.
Both quartets are, along with Grio, part of a decade-old collective of musicians whose core is formed by two versatile saxophonists, Gérald Chevillon and Damien Sabatier. They have performed in Finland in various other French contexts as well – and played precisely those "free noises" that liberally blend different styles and make them their own; the ones we have come to expect from the French.
Grio has recorded one album (Music is Our Mistress, 2020) featuring as a pianist, perhaps surprisingly, the Finnish Aki Rissanen (b. 1980). It was not simply as an occasional guest, though. He is a mainstay in the orchestra and has known some of its members for about fifteen years already, since having studied in Paris for a year. "Perhaps I'm considered as a breath of northern air, as someone who at least occasionally brings lyricism into play," says Rissanen, who himself mainly performs either solo or with his own trio.
"My role as a pianist is obviously smaller in the big Grio than in my own projects. But my sound does have its place in this ensemble as well."
Aki Rissanen – piano
Gérald Chevillon – bass, tenor and soprano saxophones
Damien Sabatier – baritone, alto and sopranino saxophones
Antonin Leymarie – drums
Joachim Florent – bass
Simon Girard – trombone
Fred Roudet – trumpet, bugle
Aymeric Avice – trumpet, bugle