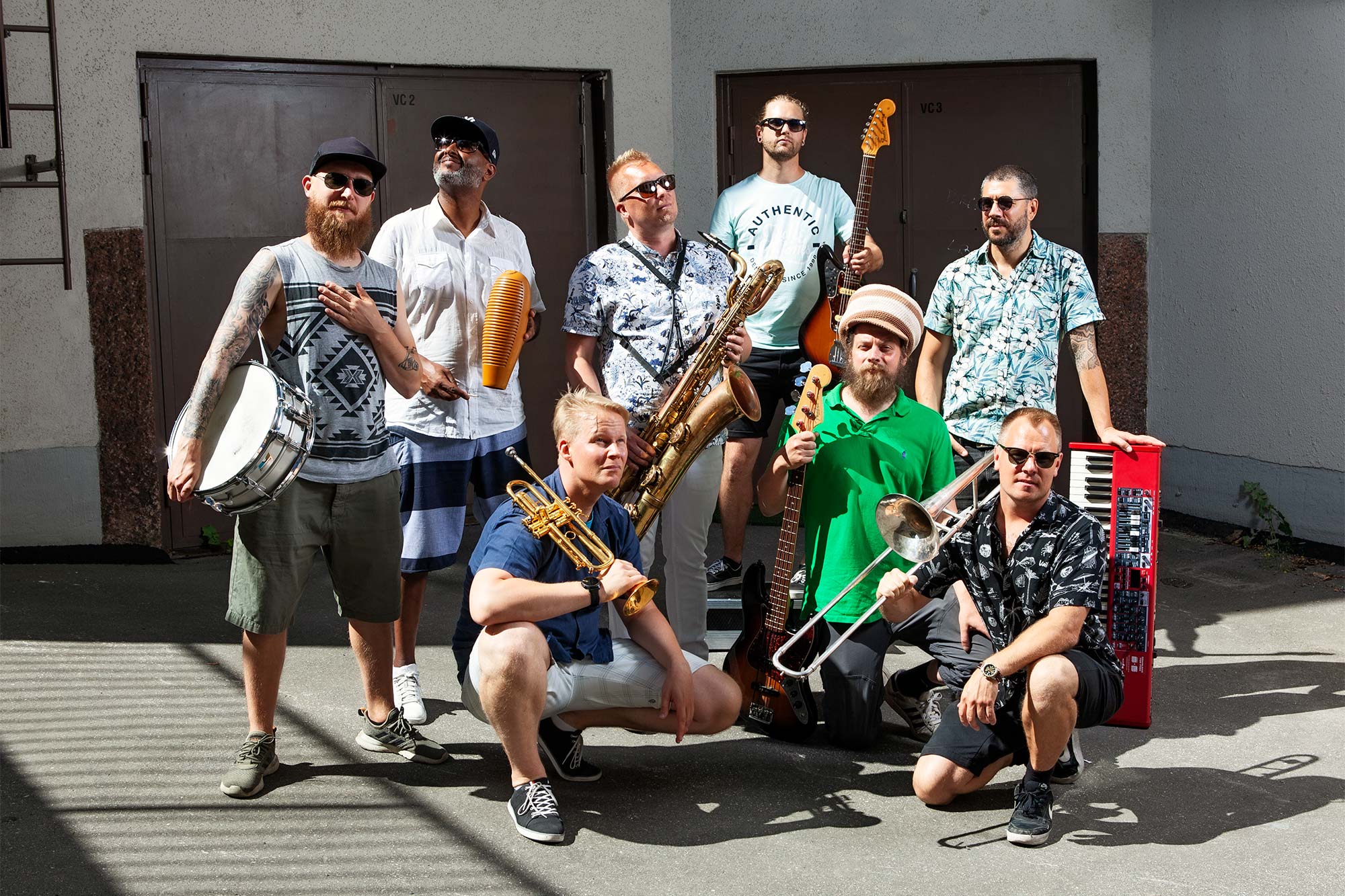 "In a live concert, Dub Vallila sounds more organic, and the music is more based on solos."
Regardless of the style of music, the location of a trombone on stage is almost always in the back row of an ensemble, and it's not the most suitable instrument for someone who loves the spotlight and requires admiration. Except if one's favorite music is reggae and its precedent, ska. Because in ska, the trombone is indeed "the leading sound", the iconic front row instrument without which one can't even imagine the first wave ska music.
Trombone players these days have much to thank for Jamaican Don Drummond (1932–1969), who was one of the founders and composers of the long-lived Skatalites ensemble, as well as one of the developers of the entire ska genre. Drummond is an important influence also for the professional musician and trombone player Jussi Vuorinen (b. 1976), who leads Dub Vallila which consists of eight musicians and is playing their second-ever performance at the Tampere Jazz Happening.
However, the history of Dub Vallila has been much longer, seeing that Vuorinen who is a permanent musician at The Helsinki Philharmonic Orchestra, gathered the ensemble together with his friends already seven years ago. "The original idea was to play covers, including ska and reggae with a kind of a Skatalites-style. However, quite soon we ended up playing only our own music at our rehearsals."
"The record and the live performance probably differ quite a bit from each other because the albums have been mixed with rather heavy dub effects. In a live concert, Dub Vallila sounds more organic, and the music is more based on solos", says Jussi Vuorinen. And that fits him, the trombone player who likes to step from the back row onto the front.
The progress of Dub Vallila has been calm, but they have nevertheless released two vinyl singles: The first one is the "Sibelian" Jean Dub/Jean Dub Version (2015) and the second one Trip To The Exoplanet 55 / Jungle Walk (2018). Their full-length album titled Katakom Beat is planned for release next winter and includes a fifth composition, Teotihuacán (2021), which has so far only been released in a digital format and is also one of Vuorinen's own compositions.
Toni Puskala – drums
Tommi Ranta – bass
Samuel Abaijón – keys
Jaakko Teittinen – guitar
Mamba Assefa – percussion
William Suvanne – sax, flute
Jussi Vuorinen – trombone
Mikko Gunu Karjalainen – trumpet
Teemu Korpipää – mixing